Here is a fun craft for your Ocean or Under the Sea theme/unit- rainbow fish craft! It is perfect from ages 2 and up and you only need dabbers and the free printable fish template!
Tip– if you do not have paint dabbers, use corks or pompoms attached to pegs, then dip them into the paint. You can also use fingers with fingerpaint if you want to get messy!
This craft is for all ages since it is quite easy to make it your own. I made this one using the dabbers in a rainbow pattern:
My 6 year old made this one so it looks like a "real" fish- according to him, lol!
My original idea was that this craft will be suitable for 2 year old, meaning easy but with an educational twist too. Let them dab their fish any way they want, talking about the color names to extend vocabulary.
Help them cut their fish and stick it on blue cardboard. Tear or cut strips of green tissue paper- this is great fine motor or scissors skills practice, and add it to the picture as seagrass. You can also add other items like real sand to make a multi-sensory craft.
Make a whole school of fish and decorate your walls! Another idea: You can hang the fish up on strings too and make it dangle from the ceiling. Add long strips of tissue paper to get the feel of being under the sea! You might want to see this Aquarium Night Light Box.
Such a bright and pretty craft and perfect for different ages and especially little kids!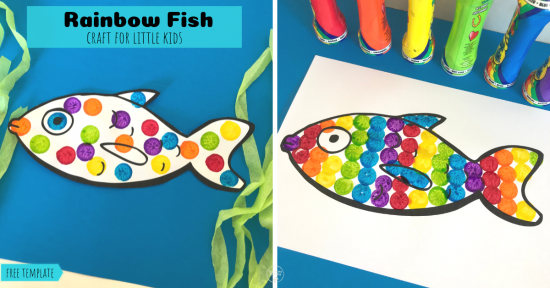 Get the free printable template on our Freebies page, follow the instructions below!