Make these adorable farm animal coloring hats with your young kids and have fun using them for roleplay, story-telling or sing-alongs!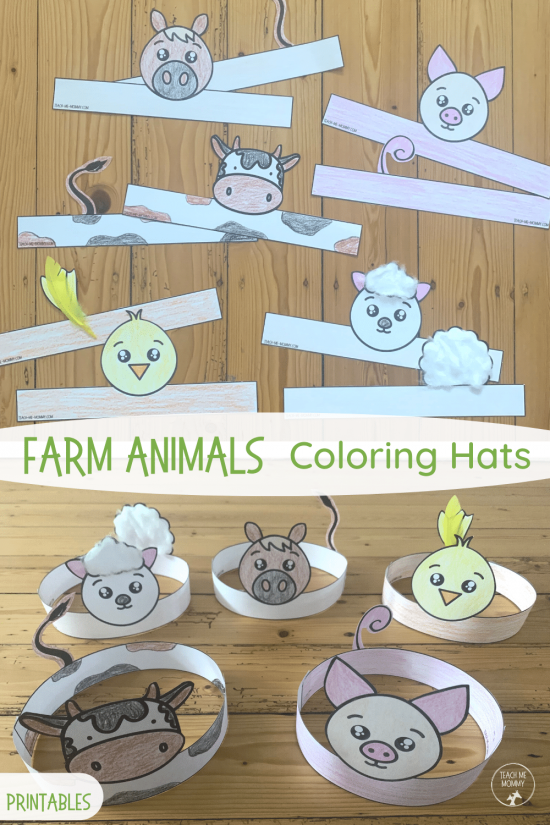 Young children love to make things that they can play with afterward. These farm animal hats are fun to make ánd then to play with too! They work great for simple role-playing, or you can use them with your class when you tell stories and you want the children to act out the story.
Songs or rhymes like Old MacDonald had a farm are moved by young kiddos and they would enjoy having their own hats to act the song out while singing it.
How to make farm animal coloring hats
Simply print our Farm Animal Hats(get them HERE) onto sturdy paper or cardboard. there are 5 animals: a cow, horse, sheep, chick and pig.
Let the kids color the hats and cut them out(they might need adult assistance with the cutting). Add extra details if you wish like cotton wool for the sheep and a feather for the chick.
Assemble to fit the child's head. The design allows you to adjust the headband slightly. If you find that the headband is too small for the child's head, simply add two strips of cardboard to the sides to make the circumference larger.
These hats did fit my 9-year-old when worn as a hat/crown. It might fit better around the head of a younger child as a headband.
Enjoy making farm animal coloring hats ánd pretending to be animals or sing along too! PS- Have you seen these Forest Animal hat set?
Find this set in our Teachers Pay Teachers store for only $3.50(that is less than $1 each)!