Here is a cute farm-themed activity for your older toddlers or preschoolers- Farm animal lacing cards! Work on developing fine motor skills with these farm animal lacing cards!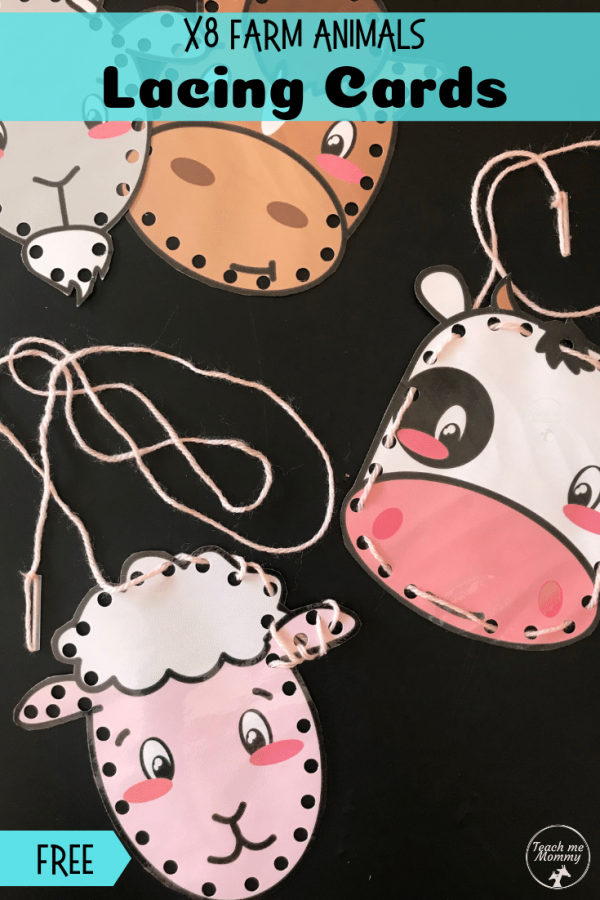 Simply print and laminate the farm animal printables. (It is free on our Freebies page, scroll down to get instructions on access to the Freebies page). There are 8 animal faces: cow, sheep, goat, horse, duck, cat, pig and dog. (Also see this Farm Busy Box idea.)
After laminating the sheets, cut the faces out and then punch holes all around the faces. You can also glue the faces to paper plates and punch around the plates without laminating it. This option might not be as durable, but provide a chunkier version of lacing plates for younger kids.
Use wool or string for lacing. TIP: attach one piece of the wool to the back of the card with tape to ensure it does not pull through accidentally. Also, thread the end through a straw to make it easier to thread for little kids without fraying.
A fun farm-themed activity for little fingers to practice lacing and fine motor skills. Add the lacing cards plus the wool to a bag and you have a busy bag for the car!
Also see these Farm Animal Coloring Hats and Farm Animal Matching Digital Resource.