I am by no means a food blogger or expert, but, if I find a recipe that is easy and can save time for moms, I'll share it! That is exactly what this pour over pie crust recipe is!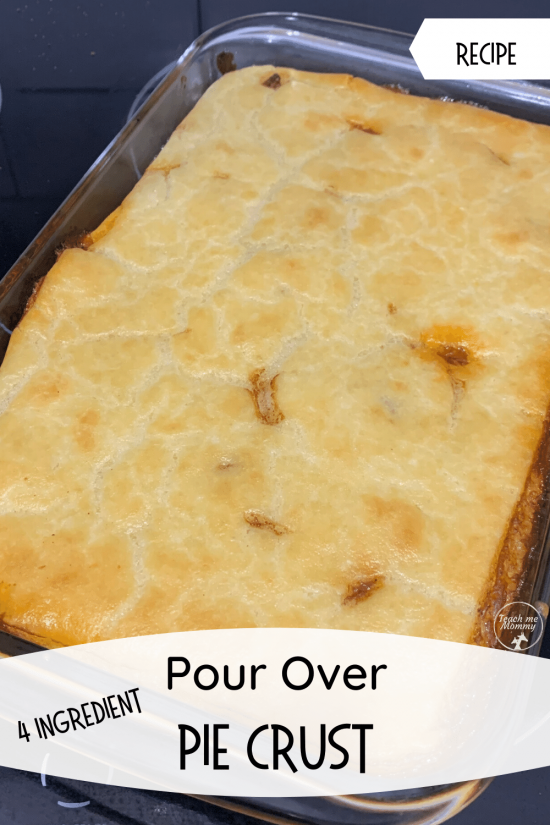 4 ingredients and your favorite pie filling and you have a quick and yummy dinner! My mother uses this recipe often and hubby says he prefers it to roll out crust.
Prepare your pie filling the way you always do. I like using a soup with the meat as a filling so that it is not dry and doesn't require additional gravy. Simply mix 125ml vegetable/olive oil, 125ml milk, 1 cup of flour, 1 egg plus salt if you prefer, together. The mixture should be runny. Pour over the pie filling and bake for 15-20 minutes or until brown at 180'C/350'F.
Yummy, quick and easy! This pour-over pie crust has been a lifesaver for having dinner on the table quickly. Plus, kids can also help with dinner prep, it is so easy. Enjoy!
Grab your copy of Smul Recipes ebook now!
Pour Over Pie Crust
4 Ingredient Pour Over pie crust for a quick and easy dinner!
Ingredients
125ml(half a cup) oil(vegetable or olive)
125ml(half a cup) milk
250ml(1 cup) flour(plain/all-purpose or cake flour works)
1 egg
salt optional and to taste
Instructions
Mix all the ingredients together and pour over your pie filling.
Bake for 15-20 minutes or until browned at 180'C/350'F.