Explore the layers of the ocean with this easy but fun activity and learn more about the ocean and its animals!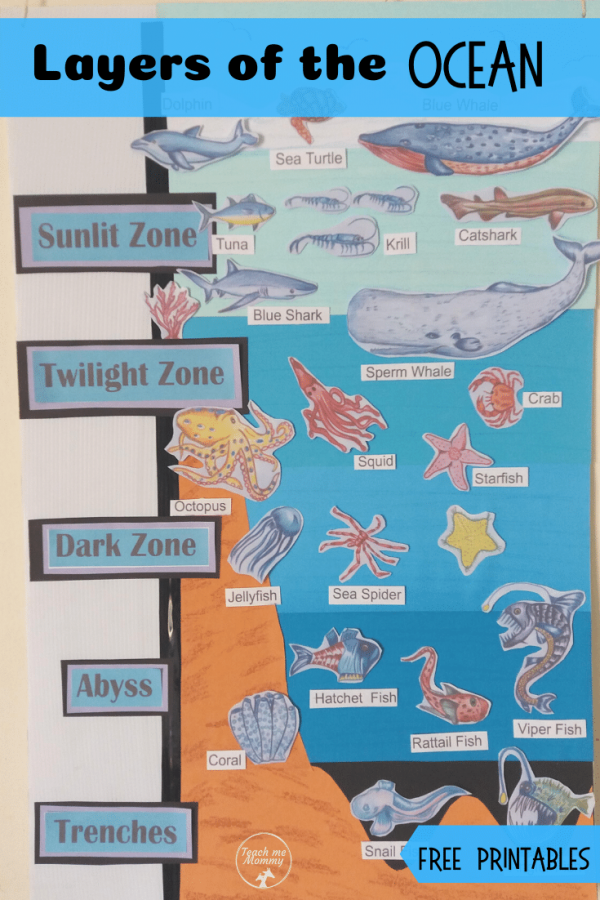 Also see our Rainforest Life Study Unit and African Wild Animals Unit!
These Ocean Inspo Coloring might also be a great addition to your lesson!
Before you start with the activity cover the key concepts:
*Ocean Waters are divided into five layers: Sunlit Zone, Twilight Zone, Dark Zone, Abyss and Trenches.
*The deeper we go down into the ocean, the less light there is and the colder the water will be.
*Marine animals live in all zones.
Also, watch You-Tube videos about the different zones. David Attenborough's Blue Planet is amazing!
You will need:
Colored paper in 5 different shades of blue
Black paper
Brown or orange paper
Large sturdy cardboard or correx board (available from signwriters) for the backing
Glue
Resources provided
What to do:
Cut a rectangle out of your correx or cardboard to a size of 40cm x 60cm. (You can go smaller or larger but I have designed the pictures and labels to fit this size).
Layer your A4 sheets over each other, starting with black at the bottom and then from darkest to lightest blue to create the different zones. You can use a normal glue stick like Pritt to glue the layers. Use brown or orange to create the sand or ocean floor. You can add some details with crayons if you like.
Print and cut the labels, pictures, names and cards. You can use the line drawings and let the kids color it or you can use the color copies.
How to use the fact cards:
I laminated my cards, labels and pictures as we were going to use them in related activities.
Use the information on the cards and let the kids place the sea creatures in their relevant zones. You can let them glue it but Prestik/Blutak works well if you have laminated your pictures and want to re-use the pictures.
You can do further activities such as a simple food chain, organize the cards according to their categories, or ask questions such as "Which animal lives the longest, which animal grows the largest? Or print two copies of the cards and play Ocean Snap.
Such a fun ocean-themed activity, packed with loads of opportunities for learning and being creative too!
Also see these add-on printable resources to make this a fun study unit on Ocean Life!
Get your free printables on our Freebies page under the category Ocean: