I have THE cutest keepsake idea for you today: Hands & Photo Heart Keepsake made from salt dough!
After this Handprint & Photo Keepsake Ornament went viral last month, I've been dreaming(literally) about creating something similar but with a love theme(for Valentine's Day, but also as an extra special keepsake). I *think* this one qualifies, what do you think?
PS: see our latest keepsake gift: Fingerprint Heart Garland Photo Frame!
Here is how we did it:
You need (plain or cake)flour, salt, water and food colouring(if you want it coloured, plain is also nice though). I used a cup of flour plus a cup of salt together with a half cup of coloured water. (Originally I wanted it red, but it came out pinkish because it does get lighter when dry, but I love the colour!)

Simply mix the ingredient until it is dough like. If too sticky add more flour and salt(equal amounts), if too grainy, add more flour, but not too much, it should be a little rough looking.
Roll it out on a baking sheet, covered with wax paper, about 1cm in thickness. Use a biggish heart cookie cutter for the photo part. It should be big enough to fit a reasonable size photo, but not too big so your kids' hands won't go around(or almost).
Press the heart first, then add the hands. I added a hand of both my kids, but one can do both hands of one kid too.

Then I removed the heart cut out carefully. The date was added and two holes for the purpose to hang it up with a string.



It was baked for 3 hours at 100'C(200 F). I turned it around and let it lie overnight in the switched off oven(cooling down) and drying the back side properly.
I added a photo to cardboard, measured so it will fit nicely in the open space. This was stuck to the back with glue. A strong string was threaded through the holes and secured tightly at the back. Note: this keepsake is quite heavy and is breakable.
I did see with another project that damp weather softened the frame so I would recommend spraying your salt dough project with a Clear Varnish to protect it.

And that is it, I did not use varnish or anything on it. The previous one is a year old, and still looks good, but to be on the safe side, rather varnish it. If you want to add a shiny look to it, you could add a glossy varnish. You can paint it afterwards, add glitter stones before baking or glitter flakes into the dough if you want a more sparkly keepsake.
I love it so much and my hubby does too(he wants one too), so I think we'll be making another one soon, perhaps with a glittery touch. (I will update if we do.)
Will you be making a hands and photo heart keepsake with your child/ren this year?
Perhaps you would like to see these keepsakes too:
Easter Handprint Keepsake
Earth Day Keepsake
Snow globe Fingerprint Keepsake
OR seen this pretty keepsake gift? Get the printable(and 5 more) HERE!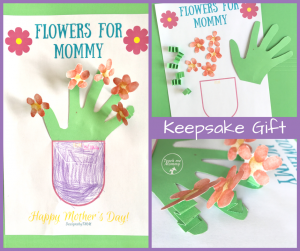 PS Find more awesome ideas(150 more)in this great book:
(Click the pic to go to Amazon to buy!)